Steve Beckwith—Owner of Maine Scent Secrets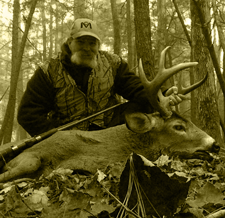 60 years old and 50 years in the woods. I hunt coyotes, deer, bear, turkey, moose, grouse and anything that needs to be harvested for proper game management. I love to cook and eat what I harvest, the grill and oven are a couple of my favorite toys! I am the Editor and Webmaster for the North Berwick Rod & Gun Club and Life Member, I belong to S.A.M., the NRA, several local Land Trust organizations and other sporting organizations. I am a Maine Registered Guide, owner of Maine Guided Hunts.com, I guide Bear, Turkey, Deer, Moose and Coyote hunts. I am also owner of Maine Guide Course.com and help others to become Maine Registered Guides. I won't bore you with the other businesses I have run in my life which has taken me to this wonderful career I have now!
I am called "Boss Man" by many of my closest friends, I guess maybe I'm bossy, but I would like to think that it's because I take my outdoor businesses seriously and love all that are mutually outdoor minded people! I have put my heart and soul into promoting and being a vital role in the outdoors here in Maine, hence my other name, "Steve Beckwith The Maine Hunter" which my outdoor blog reflects. Since 1999 when I started MaineHunters.com, a website that promoted Maine sportsman by providing a portal for posting Maine and New England photos of hunters accomplishments. This website became obsolete by about 2010 primarily because the FB giant took over posting photos with ease for sportsman to show their friends their harvest photos, but prior too this date, I started a film team with a fabulous crew that we now know as Maine Hunters TV, with streaming videos on ROKU and on our website, we show hunting in New England like it really is...difficult and with no phony editing of our hunts. Our hunts are not Hollywood and certainly are not reality TV! We are old school start to finish hunts, like videos of yesterday!
As I am not getting any younger, my body getting worn from that evil we all call work, forced me about fifteen years ago to start sitting in treestands for long hours, to harvest my deer, rather than tracking and dogging them down my original passion. I soon started experimenting with several brands of deer lures and urines, wicking devices and deer calls (hand calls & electronic) and have developed some very good methods that have greatly increased my success here in New England. My blog, Steve Beckwith The Maine Hunter" is a great place to learn more about my experiences and how I recommend using scents and calls for the entire hunting season.
Last year I developed a mechanical contraption that is now known as the Wicked Scent Wickah, sold on this website, because I wanted to get deer scent further away from my stand and the stronger the better to attract longer distances. It has been an instant success story and accomplished all I thought it would. I then did some serious research with many different deer farms across the United States and pinpointed just what I was looking for in a deer urine product, I know bottle four different deer scents, Anytime Buck, Dominant (rut) Buck, Anytime Doe and Doe in Estrus. These four scents are key in the life of whitetails deer interaction in the forest anywhere deer live. Why are my scents better than others? Well the key is with deer urine is to be 100% sure you are getting what you are buying in the bottles of scent you buy. (I found a ten fold increase in my scent use success when I started using my source over scents I would buy at retail stores and even local sporting goods stores. I make sure when you buy Maine Scent Secrets deer urines that you are getting the exact scent type that is on our bottles, this is why I call my products Maine Scent Secrets! They are hand filled and I make sure they are labeled correctly. Here in New England we need the best odds we can get to attract the deer we are seeking to fill our tags with! Used properly these products will definitely increase your odds if used and applied using techniques that I use and techniques yet to be discovered! Understanding the whitetail takes a lifetime of pursuing them but getting useful tips from experiences I have had should expedite success for many of our product users.
I wish you all a huge success using my products...
Thank you for using these products and supporting a Maine Online Small Business!