Matt Gray - Pro Field Staff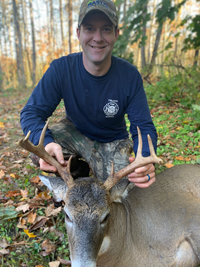 I was born and raised in Orland Maine, which is between Belfast and Bar Harbor on the coast of Maine. I started deer and duck hunting at the age of 10 with my father, and other family and friends. I shot my first deer on opening day when I was 10. That was a 6 point, 145 pounds and I have been hooked ever since. I have also spent a fair of time on the coast of Maine wing shooting Eider, Scoter, and Old Squaw ducks. In 2007 I was fortunate enough to be drawn for a Maine moose permit, and shot a 50" spread, 790 pound Maine moose on the first day, with my father by my side which is an experience I will never forget!! I have been on five other moose hunts over the years to help with the hunt, and grouse hunt in the fabulous northern Maine.
At the age of 18, I started hunting with a bow, as well as a rifle. I have been fortunate enough to harvest four nice 8 point Bucks with a bow, as well as a few smaller bucks, and does. On the coast, I am able to hunt the expanded archery areas which allows me to take one buck, and as many does as I can shoot due to an over abundance of deer in those areas. I also hunt statewide archery, and rifle hunt. Three years ago, I started hunting bear over bait and absolutely fell in love with it. I still have a lot to learn about bear hunting, but that's what makes it so fun! This year I also got into trolling for trout and landlocked salmon, and very much enjoy that!!
Hunting is a way of life for me. I hunt and harvest an animal, and my wonderful wife cooks it and feeds our family!
Below is how we met Matt! Matt brings experience using our product from day one!
Pictures speak a thousand words from product user and customer Matt Gray, Matt shot this nice buck in Maine on October 26th, 2019, after purchasing our Dominant Buck and Doe Estrus Deer urine on October 13th!